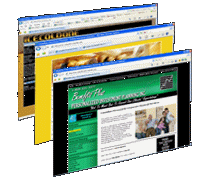 You have the idea. We have the technical knowledge and experience to bring that idea to life.
Our team of Web Developers and Graphic Artists know the "how to" but it's your website - so we expect you to call the shots. We will work with you to develop your idea into a working site that you'll be proud to call your own.
Provide your own artwork, buy from a supplier, or have one of our graphic artists produce what you need. The choice is yours.
All work will be price quoted to the client prior to beginning work. We work on an hourly rate which means you pay for the time you use- no more, and no less. A 50% deposit is required to begin actual work, with the remainder due on delivery.
Contact us at websites

nexus-iservices.com to begin discussions on how to get your piece of the cloud.